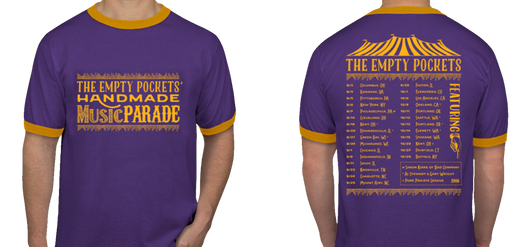 Handmade Music Parade Tee
Regular price $25.00 Sale
The Limited-Edition Fall 2016 Tour Shirt is a hip, eye-catching addition to the rock and roll wardrobe of any fine discerning music fan. Complete with Handmade Music Parade tour logo on the front and the Fall 2016 tour dates on the reverse, it's sure to cause pause in any music fan.
Utilizing a high-quality poly/cotton blend and durable reinforced seams, we spared no expense in creating the highest quality tour t-shirt we possibly could. This T holds up well to multiple post-rock washings, unlike some other tour t-shirts we've seen. Not naming any names, Plain White Tees...
These shirts are fitted, so they run small. Get yours today before they are gone forever!